The Vikings for Life movement is now implementing this project.
Please visit our

website

.
---
Check awarded for Stone Castle Rejuvenation Raffle winner
Pictured above, left to right:
Bill Bingham, Jim Arnold, Sarah Fleenor, Rick Hurley,
Caroline Hawthorne, Mary Rouse, and Paul Pendleton.

Sarah Fleenor, the lucky winner of the grand prize for the Stone Castle Rejuvenation raffle, proudly accepts her $5,000 from members of the Stone Castle Rejuvenation committee. Congratulations, Sarah! Thanks to all who purchased raffle tickets to support this community effort!
---
Legacy Wall construction progressing...
BY KEVIN CASTLE | BRISTOL HERALD COURIER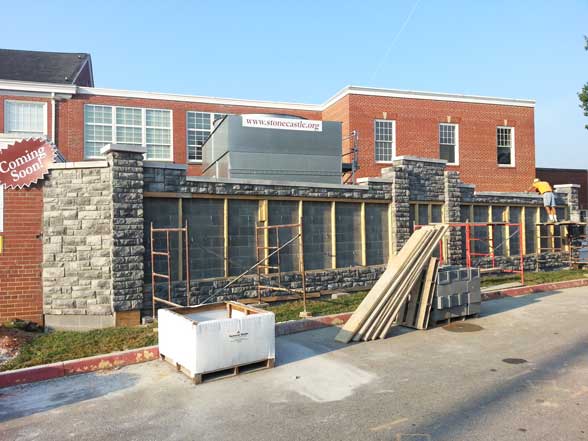 BRISTOL , Tenn. — Tennessee High School supporters will soon have a new legacy outside the gates of the historic Stone Castle stadium.
"The Legacy Wall" is being erected just yards from the 77-year-old fortress and is being included as part of phase one of a three-phase, $3.2 million project to repair and refurbish the landmark. Built as part of the Works Progress Administration, it was named to the National Register of Historic Places in 1987.
---
Not been in the Stone Castle in a while? Take a panoramic virtual tour of our stadium below by clicking and dragging horizontally and vertically, while using your scroll wheel on your mouse to zoom in...
Click here for a larger view of The Stone Castle
---
The mission of the Stone Castle Rejuvenation Project is to maintain and preserve the historic integrity of the Stone Castle while improving its functionality and usability for the betterment of our students and the Bristol community.
Some of the highlights of the project include the following:
Improve handicapped accessibility

Renovate and add new restrooms

Upgrade existing seating

Add seating in one end zone

Install synthetic playing surface


Add new concession stands and souvenir stand

Construct new home team dressing and training room

Improve existing visitor dressing room

Refurbish entrances and plaza
Interested in getting involved? Contact us...
email: stonecastle@btcs.org
phone: 423-652-9451
Interested in contributing financially to the project? See how on the Donate page.